I would say this site isn't worth joining anymore because there's no guarantee you can earn cashback rewards. It simply isn't worth the trouble, in my opinion. You are better off joining cashback sites that offer guaranteed cashback rewards.
If you love to shop, you might want to consider joining a site called Boom25. This site claims you will discover an exciting shopping experience.
While their claim surely is interesting, there are a few things you must verify first before hitting that "Join" button.
This Boom25 review will not only check whether Boom25 is a legit site or just a scam, but it will also examine whether it is really worth joining or not. It will give you an inside look so you'll know what to expect before you even join.
So, let's go ahead and start with the review.
What is Boom25 and what does it offer?
Boom25 is a legit online shopping platform that allows you to shop while also entering into a draw where you will have a 1:25 chance of receiving up to a full refund on your online purchase. So, it's a bit different than other cashback sites you might have encountered.
As you can see, Boom25 doesn't really guarantee you any cashback rewards. Whether that is good or bad will depend entirely on your preference.
Anyway, let's take a closer look at the earning opportunities it offers so you can better understand how the site works and get a clear picture of its earning potential.
So, here's how you can potentially earn from Boom25.
Option 1 – Boom25 deals
The main earning opportunity of this site is their Boom25 deals. As mentioned above, there is no guarantee you earn something from one of their deals. The only way you will earn something is if you are the 25th member to complete a purchase from any of their partner retailers.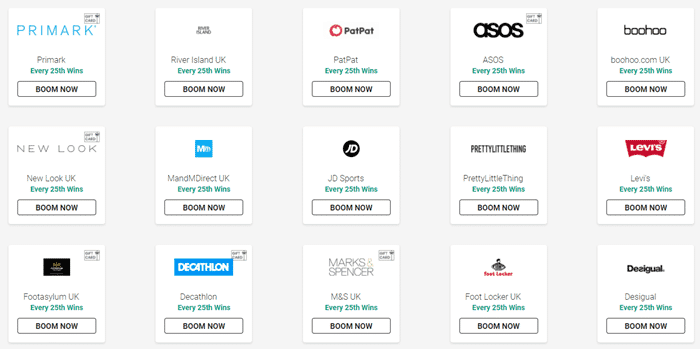 But how does Boom25 determine who is the 25th shopper? Let me explain how it works.
When a transaction is approved by a partner retailer, Boom25 will be notified. Then Boom25 will check if you are the 25th member to avail of their deals. If you are, then you will get up to 100% cashback.
However, during the Covid-19 pandemic, you will only receive 3% cashback, which is pretty low, in my opinion, considering there's no guarantee you will receive it (unless you win). The low cashback rate is applied until further notice.
Hopefully, it returns back to the original cashback rate sooner rather than later.
But what if you make 25 transactions in a row? Well, even if you do that, there's no guarantee you will be the 25th customer. Someone could have completed a purchase after your 24th purchase and they will receive the cashback instead. Boom25's internal mechanism gives you the same chances to win no matter how many consecutive purchases you make.
So, there's really no point in making consecutive purchases just to win. Everything will still be based on luck. That's why I would suggest you just shop whenever you need to. If you win, then consider yourself lucky. If you don't, you will still have the product that you purchased, you just won't get any cashback reward.
Another thing to note about their deals is, purchases exceeding £10,000 will not be eligible to win money back. That's the only limit you need to take note of (not that you would really make any purchase like that online).
Option 2 – Referral program
The only guaranteed way you will be able to earn from this site is by participating in their referral program.
If you are new to referral programs, it is basically a type of earning opportunity where you will be able to earn bonus rewards for inviting other people to join the site.

The idea is, you invite a person to join the site by sharing your invite link with them. When they click the link, they will be redirected to the registration form of the website. So, when they complete the registration process, they will now become your referral.
Now, typically, before you will receive the bonus reward, your referral has to meet a certain condition.
In Boom25's case, your referral must make a purchase over £20 on the site before you will receive the referral reward. When they do so, you will then receive £5. You can only claim this reward once for every referral.
It's a decent referral reward, in my opinion, but it's fairly hard to achieve. You have to make sure the people you invite are really interested in shopping from this site. Otherwise, you will just be wasting your time and their time.
How do you get paid?
If you get lucky and you are the 25th shopper, the cashback reward you will receive will be credited to your Boom25 account balance.
The site will send you an email revealing if you have won when you made your purchase. Expect to receive the email between 1 to 130 days after you bought the product.
So, it can take quite some time before you will know if you won the cashback reward. This time frame is determined by the retailers and not Boom25. You can then withdraw your earnings via PayPal once you've earned £10 in cashback rewards.
It's a relatively low threshold, which is good, in my opinion. PayPal is the only payment option they offer, so if you don't have a PayPal account, I suggest you sign up for one first before you become a member of Boom25.
If you are interested in more sites that pay via PayPal, I recommend you check out the top sites that pay via PayPal.
How much money can you make?
As you already know, there's no guarantee you will earn from the deals Boom25 offers. The only reliable way to earn from this site is through their referral program, and earning from it is easier said than done.
That's why I would say the earning potential of this cashback site is very low. Before the Covid-19 pandemic, the potential of this site was slightly better because you received up to 100% cashback. So, you would potentially get something for free if you were really lucky.
This could be quite a payoff if you spent a lot for a purchase. But since the reward is now significantly lower, the gamble is simply not worth it, in my opinion. You are better off availing of guaranteed cashback offers from other cashback sites.
Can you use it on mobile?
Boom25 has a mobile app you can download so you can avail of their deals from your mobile device conveniently. You don't have to use a browser to log in to the site and make the purchase that way.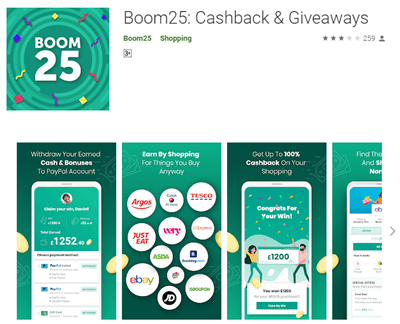 You can simply install the app and log in and access their deals from it. The app is available for download on both Android and iOS app stores. It is very user-friendly, so you shouldn't have any trouble getting used to how it works.
Who can join Boom25?
There is no mention on their site about the countries where Boom25 is available. When I signed up, there was no option to choose the country you live in. So, you would think that this site is available globally. Technically speaking, that would be the case.
But when you log in to the site, most of the partner retailers they show are based in the UK. Plus, the currency they are using is Sterling pounds.
That leads me to believe that this platform is only available for UK residents. Also, in my experience, sites that use Sterling pounds as their currency are typically only available in the UK.
They do say you have to be at least 18 years of age to join. Now, to become a member, all you have to do is fill out their registration form with your own login details or you can use your Facebook account to sign up.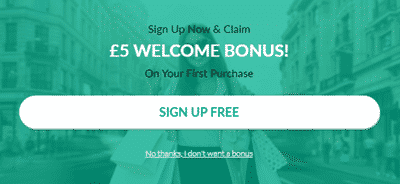 Once you are done with the registration, you will see a notification that is similar to the photo shown above. You will actually receive a £5 sign-up bonus. You can claim this bonus if you've make a purchase through their deals within the first two hours of becoming a member.
It's a small reward, but at least you get something for signing up. It's a good thing since not all cashback sites offer sign-up bonuses.
Can you get support?
If you have any questions about the site, you can refer to their FAQ page first to see if the answers you are looking for are posted on their FAQ page.
If you can't find the answers you are looking for, you can contact their Customer Support department using the contact form provided on their website.
It does take a minimum of 2 to 5 business days for them to reply to your message and during weekends from Friday afternoon to Sunday they are closed.
Although it will take some time to get a reply, I would still say they have a decent support system in place since they offer an easy way for you to get in touch with their support team.
Final Verdict
Boom25 is a legit cashback app that will give you a chance to win cashback rewards. It has a couple of good features but it also has certain disadvantages you need to consider.
So, let me end this review with a summary of its pros and cons to give you an overview of what the site has to offer. That way, you will be able to decide if it is really worth joining this site or not.

Pros:
Offers payment via PayPal
Has a user-friendly mobile app

Cons:
Doesn't offer a guaranteed way to receive cashback rewards
Hard to receive referral bonus from their referral program
Low cashback rate
Before Boom25 slashed its cashback rate, I would say it would have been worth joining this site if you were eligible to join. That's because you could receive up to 100% cashback reward if you got lucky. That's the highest cashback rate I've seen on any cashback site.
So, you could say it would have been worth the gamble. But since their cashback rate has been drastically reduced, I would say this site isn't worth joining anymore. It simply isn't worth the trouble, in my opinion. You are better off joining cashback sites that offer guaranteed cashback rewards.
If ever they do return to their normal cashback rate of up to 100%, then it might be worth the gamble.
Now, if you are looking to earn rewards without spending any cash, I would instead suggest you check out the top survey and GPT sites in your country. The sites on this list all have good earning potential and offer guaranteed ways to earn without spending any money.
Plus, you will be able to find a site you can join regardless of where you live.
If you have any comments, questions, or have any experiences with Boom25 yourself, I would love to hear from you in a comment below.