IndexClix is a PTC site that pays you for viewing ads, completing offers, playing games, and more. You can find a lot of options here but it simply isn't the best site to earn extra cash from because of the low rewards.
If you are looking for easy ways to earn extra cash online, you can try your hand on Paid-To-Click (PTC) sites. If this is your first time hearing about this kind of site, it's basically a form of online rewards platform that will reward you for viewing ads and doing other activities.
One such site is called IndexClix. This PTC site promises to pay you for simply viewing ads, completing offers, and a lot more. The thing is, there are a lot of scam PTC sites. So, it is best to be careful before you join one.
So, is IndexClix legit or is it a scam? Let's answer this right from the start. Yes, IndexClix is a legit PTC site.
It does pay you for viewing ads and completing other short tasks. However, this is not the real barometer when deciding if you should join the site or not.
To figure out if IndexClix is worth your time, we have to factor in a couple of things. This IndexClix review will reveal the truth about this site so you can decide if you should go ahead and sign up as a member or not.
What is IndexClix and what does it offer?
As explained above, IndexClix is a PTC site that will reward you for viewing ads. This is typically the main earning opportunity found on PTC sites.
If you've been a member of a Get-Paid-To or survey site and are wondering if there's a huge difference between these sites and a PTC site, then, I suggest you check out this guide on the difference between PTC, GPT and survey sites.
Now, in order to decide if you should join this site, we have to figure out its earning potential and the best way to do that is to take a closer look at the earning opportunities it offers. So, here's how you can earn on IndexClix.
Option 1 – Paid ads
Paid ads are what make a PTC site a PTC site. This is the main earning opportunity they offer. Earning rewards from this is very simple.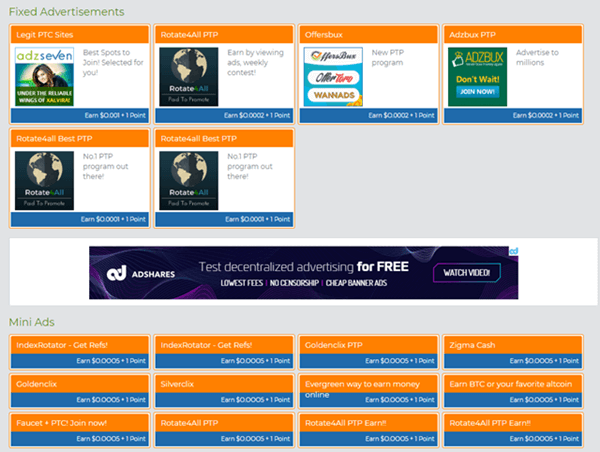 All you have to do is click the name of the ad and it will open a new window. You will need to wait for the ad page to completely load and watch out for the captcha in the upper left-hand corner. You need to complete the captcha to finish watching the ad and earn the reward.
Typically, the captcha will just ask you to choose a certain image. When you've done that, a message will say "Thank you for watching." That's the signal you can close the page.
IndexClix has four types of ads you can view, namely: fixed, mini, flash, and bonus ads. The main difference between them is the amount you will earn. Typically, fixed and bonus ads pay the most.
But keep in mind that you will be earning $0.001 per ad you view (at most). So, you will have to literally view a thousand ads before you can earn just a bit.
So, even though it only takes a few seconds to complete, you will still need plenty of patience to earn a significant amount.
Option 2 – Paid offers
Another way to earn rewards is by completing paid offers. You will typically see this type of earning opportunity on GPT sites. And the good thing is, it pays more than paid ads.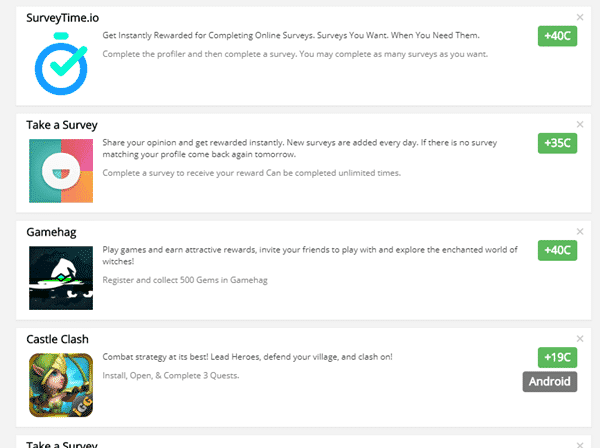 Paid offers are just small tasks that will usually ask you to play a game, answer a survey, participate in contests, or register for a website. When you click on an offer, you will see a set of instructions you need to follow.
Just make sure you follow the instructions properly and you should be able to complete an offer without any problem. Once you've completed the offer, you will receive the reward promised.
Don't be alarmed though if an offer takes you to a different site. This is normal. What these offerwalls do is, they reroute you to other sites that provide paid offers.
As you can see in the photo above, paid offers pay more than paid ads, but not that much. You will still need to complete a lot of offers to earn a significant amount.
And you can find most of the same offers on GPT sites and often they pay better there. So you need to consider this before taking any paid offers on IndexClix.
Option 3 – Paid surveys
You can also earn rewards by answering surveys. IndexClix gives you access to several surveys a day. They act as a survey router that lists various online surveys you can take.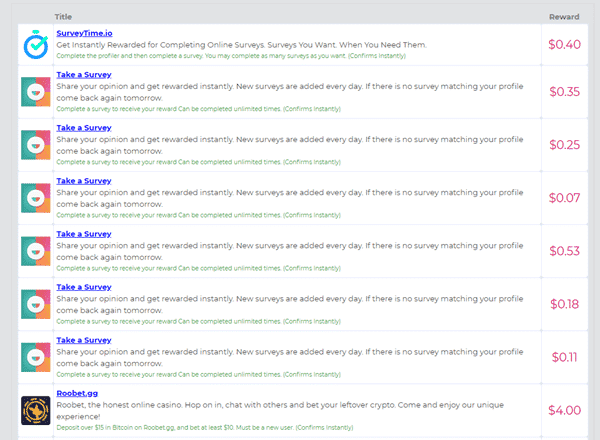 The advantage of this type of earning opportunity is, you don't have to be a member of the site offering the survey to answer it. So, you can just log in to IndexClix and pick a survey you want to answer.
Now, you will have to go through the typical qualification process for answering a survey. If you qualify, you can then answer the actual survey. If you don't qualify, you simply have to move on to the next survey.
That's how paid surveys work. Once you complete the survey, you will receive the reward.
Fair warning though, the rewards you will earn from these surveys will be lower than what you can earn from a typical survey site. As you can see in the image above, you will, for example, get $0.40 for taking a survey on Surveytime.
If you take a survey directly on Surveytime, you will instead get $1 per survey. So you can earn significantly more by taking the surveys on other sites.
Option 4 – Bonus game
Bonus games are also very commonly found on PTC sites. In IndexClix's case, you will be able to play their bonus game every 300 seconds or 5 minutes.
The idea is very simple. You just have to click on the "Click to win" button. Then an ad will pop-up.
You then have to view the ad like you normally would with paid ads. Once you are finished viewing it, you will then be notified of which prize you won.
At most, you can win $5 which will be credited to your IndexClix account right away. You can only play this game a maximum of 40 times per day.
In my opinion, this game of chance is really just a way to boost your earnings even just a little. But do not expect too much and be aware that you will have to be extremely lucky to get the main prize.
Option 5 – IndexGrid
Every PTC site has some form of grid game you can play. The instructions are basically the same and only the name varies.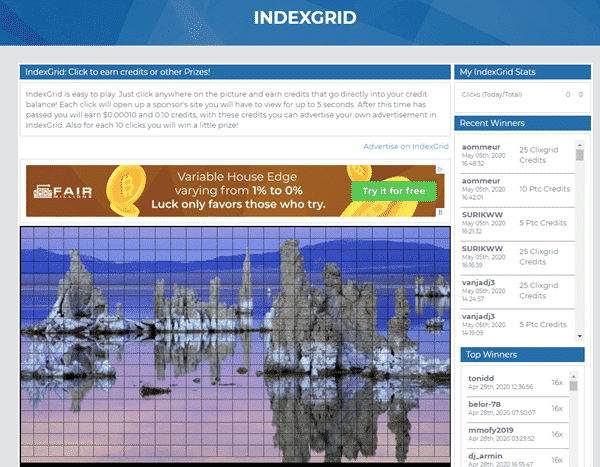 The process is a lot like the bonus game, but instead of clicking the "Click to win" button, you just have to click a grid on the image. You will then have to watch an ad first before you can find out if you won or not.
You are guaranteed to earn $0.00010 and 0.10 credits for each grid you click. You can use the credits for setting up your own ad on the site. You are also guaranteed to win a prize after every 10 grids you click.
The prizes you can win from this game are PTC credits and IndexGrid credits (additional chances to click grids). They don't mention how many grids you can click each day, but in my experience, it is usually around 20 to 25 grids.
The grid counter will then be reset daily at midnight server time.
Option 6 – Flip the coin
Flip the coin is a betting game you can play on most PTC sites and you can find one here on IndexClix too.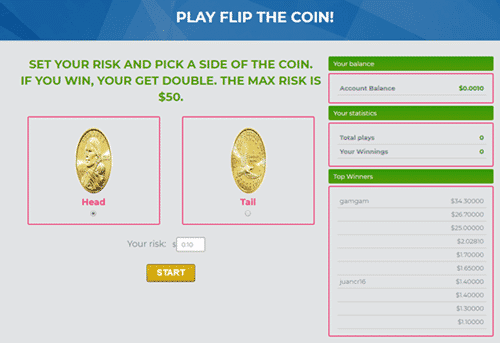 You basically bet a part (or all) of your earnings for a simple heads or tails game. If you lose the flip, the amount you bet will be deducted from your IndexClix balance.
It's certainly a tempting game to play but I would exercise caution when playing this because you might wind up losing all you've earned in an instant.
Option 7 – Referral program
Inviting people to join the site will also earn you small rewards and even a commission. When the person you invite signs up to the site using your referral link, they will become your direct referral.
You can then earn a commission for all the ads they have clicked starting the following day. But in order to receive the commission from your referral the following day, you have to view a certain number of ads in the paid ads section.
So, let's say you've met the number of ads you need to view to earn the commission, then when your direct referral earns $0.1 from ads the next day, you will receive a percentage of that which will be shouldered by IndexClix.
The commission percentage will depend on your membership level which I will discuss later.
They also have a contest held every week for whoever promotes their referral link the best. The contest will be measured by the number of visits and sign-ups the user has had for their referral link.
How do you get paid?
Every activity you complete on IndexClix will earn you a certain amount which will be credited to your IndexClix account.
Once you've earned $2 and a certain number of cashout points (you'll know how many when you reach the threshold), you can then withdraw it via Airtm, Solidtrustpay, Payeer, or Bitcoin. You can earn cashout points by viewing ads.
So, if you want to get paid, you will have to view ads to earn the required cashout points to withdraw your earnings. You also have a withdrawal limit you can cash out every day. For example, if you are a standard member, you can only withdraw a maximum of $5 per day.
But reaching that threshold will honestly be extremely difficult anyway.
The limit will be increased if you upgrade your membership. Their reward system is a bit messy, in my opinion. There are a few things to consider before you can withdraw your earnings.
But I do like the fact that they have a low payout threshold. In my experience though, this is typical with PTC sites.
But if you are looking for GPT and survey sites that also have a low payout threshold, you can check out the fastest paying sites.
How much money can you make?
The way PTC sites are structured is, you have to pay more to earn more. That's why they have a membership upgrade in place if you want to increase your earnings.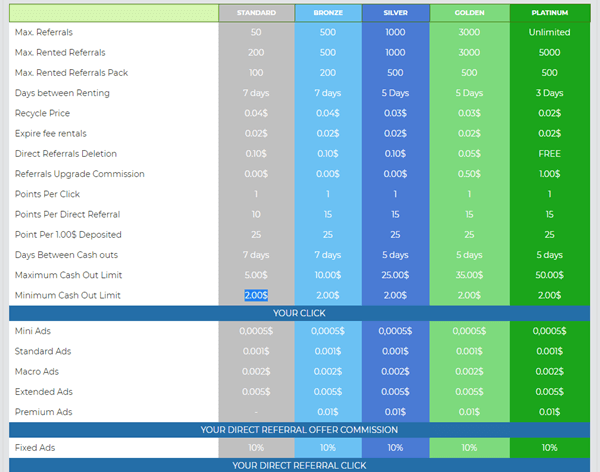 These upgrades will give you certain benefits to earn more (including an increase in withdrawal limit). You can earn more for each ad you click and you will get a higher referral commission.
That's all well and good but you have to keep in mind that you will be spending money to avail of these upgrades. So, you must have a solid strategy to earn back the money you spent on the upgrade. Otherwise, upgrading will be pointless.
Long-time members usually avail of the upgrade using their earnings from the site (yes, you can pay for the upgrade using your earnings). They just juggle their earnings so that at the end of the day, they can still earn at a decent rate.
But overall, I would say that you won't really be able to earn a significant amount from this site because it just doesn't pay that well.
So, even though there are plenty of opportunities to earn, you will need to invest a lot of time to earn a decent amount. That simply won't do efficiency-wise.
Can you use it on mobile?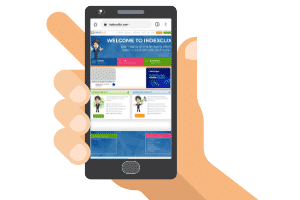 PTC sites, in my opinion, aren't really cut out for mobile devices mainly because of the nature of the earning opportunities they offer.
You will have to constantly open a new browser window and when you do that long enough on a mobile device, it can certainly become annoying.
Also, there are ads all over the platform which makes it very difficult to navigate when using a mobile.
That's why I would suggest you work on it on a computer instead. That's your most convenient option. That being said, there are certain paid offers that you can do on mobile devices specifically (like downloading apps or playing mobile games).
That's the time you can use it on a mobile device. The problem is, navigating through the site on a mobile device is not very convenient because their site is not optimized for mobile use. You will have to keep zooming in to read the content properly and click the links properly.
So, completing mobile offers won't be very convenient.
Who can join IndexClix?
The one redeeming factor of IndexClix, in my opinion, is, it is available globally. So, you can sign up as a member regardless of where you live.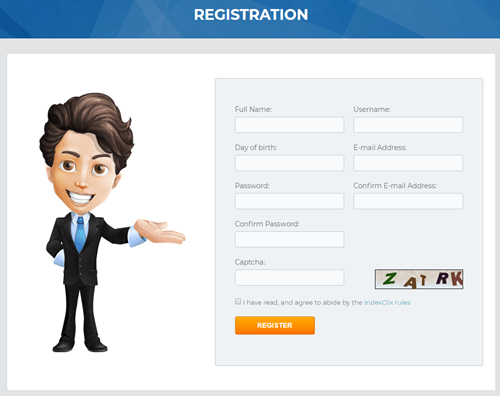 Their sign-up process is very simple. All you have to do is fill out the registration form.
Once you are done, you can log in to the site and start earning. You don't even have to confirm or verify your account like most sites usually do.
Can you get support?
Here's where I find a lot of fault from IndexClix. Although they do have a FAQ page that discusses most of the basic topics about the site, there is still some relevant information not included on their site.
And the answer to their FAQs isn't really that comprehensive. So, you might still have questions even after reading it.
In my experience, when a site has a lot of missing relevant info, it decreases the user experience a lot. Potential members will lose interest because they don't have a clear picture of how they can work the site.
So, in my opinion, it would have been better if they were able to elaborate on important things.
But they do offer a way for you to contact their customer support by submitting a support ticket. At least, they make it easier for you to track your inquiries.
But overall, I feel like their site could use more work in terms of providing relevant information but at least they have a decent way of providing support if ever you need it though.
Final Verdict
IndexClix is a PTC site that does pay you for viewing ads, completing offers, playing games, and a lot more. It has a couple of good qualities to offer but it just has certain drawbacks that are hard to ignore.
So, let's wrap up this review with a summary of its pros and cons so you can get a better overview of what the site has to offer.

Pros:
Low payout threshold
Available globally

Cons:
Low rewards
Payment via PayPal is not available
The payment system is a bit confusing
Their site is not very user-friendly
At the end of the day, IndexClix simply isn't the best site to earn extra cash from. Sure it has a low payout threshold and you can join regardless of where you live.
But those things just don' offset the fact that you won't be able to earn a significant amount from this site without having to spend a whole lot of time, which, in my opinion, is better spent on sites that pay better.
The sites on this list all pay better than IndexClix and they offer conv