Linxium will supposedly pay you for viewing ads. However, it seems the platform has now closed down and a lot of people have lost money because of this. So even if it should come back, it is a site to stay away from, in my opinion.
There's a site called Linxium that promises to pay you dollars and not cents just for clicking ads.
If you are familiar with online rewards sites, this is actually quite a bold claim. That's because most sites that pay you to click ads will only reward you with cents for every task.
So, if you are looking for a site to join to earn extra cash, you must be interested in this site. But before you sign up to this site, we have to verify a few things first. Number one, is Linxium a scam or is it a legit site?
This is the most important thing we need to verify. When it comes to Linxium, this is not so straight forward – after I first published this review new things have happened that indicate Linxium might very well be a scam.
This Linxium review will go into all the details and also go into details about why the site recently seems to have gone down.
It will tell you untold details about the site so you know exactly what to expect and can decide if you should join or not.
Update August 2020 – Linxium is down
Let me start with an important update as some big things have happened since I first published this review.
As of today, August 21st 2020, it is suddenly no longer possible to access Linxium.cc. You just get a message saying that the website is no longer available.

It seems like they have not paid the hosting fees and therefore the site has been taken down.
It is possible that they will pay this fee and get the site up running again. But no matter what, this is definitely not a good sign.
As you can see in my original review below, I was not impressed with what it had to offer.
But this makes it even worse and shows a complete lack of care of their members.
Even if they should end up opening up again, a situation like this shows that you should not waste your time on this site – it will just be too risky.
If you already were a member and now cannot get access to your earnings, there is unfortunately not really anything you can do.
But you should keep an eye on the site and see if it suddenly goes live again – if it does, take your earnings out asap and then invest your time on other sites instead.
If you want to see better sites that are trustworthy and will not suddenly just go down, you can check out the best sites in your country here.
What is Linxium and what does it offer?
Linxium is a PTC site that promises to pay you for viewing ads and doing other activities.
Since it is a PTC site, you can expect to earn rewards in several ways. Now, if this is your fist time hearing about a PTC site, I suggest you check out the ultimate PTC guide first to give you a background of what this kind of site is.
In order for you to understand the earning potential of Linxium, we have to examine the earning opportunities it offers. So, here's how you can earn from this site.
Option 1 – Paid ads
If it is a PTC site, you can expect to earn by viewing paid ads. This is a very simple earning opportunity where you will get paid per ad you view.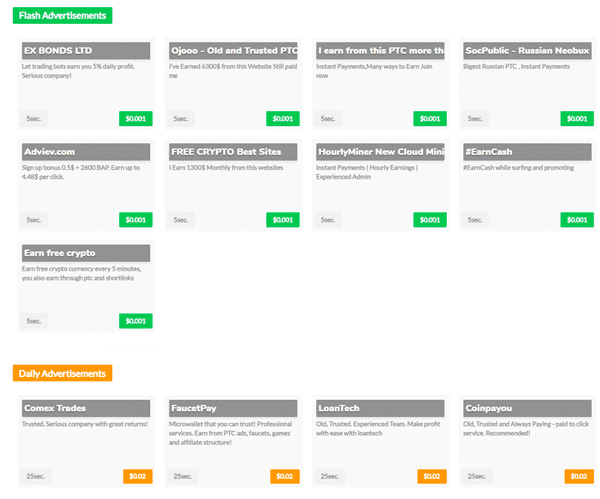 If you read the statement on their home page, Linxium promises to pay you $0.02 per daily ads you view. That's actually true. However, it doesn't tell you that there aren't a lot of daily ads you can view.
Linxium has three kinds of ads, Fixed, Flash and Daily Ads. Among the three, Daily Ads has the highest reward of $0.02. This is actually quite a high rate for a paid ad. It's higher than most ads you can find on PTC sites.
But again, as I've said, there aren't a lot of daily ads you can view. So, earning will still be pretty limited. The rate for the other two are right around the normal rate you can find from other PTC sites, which is $0.001.
To view an ad, just click on it and it will open a new browser tab. You have to wait around a certain amount of seconds after it has loaded to get paid.
The new browser tab that opened won't indicate when the reward has been credited. You have to check on the previous tab to see if it has been credited to your account.
Once it says "Credited", you can close the window and proceed to the next ad.
Each type of ad will have a set number of seconds before it finishes loading. For Fixed Ads, it will take 10 seconds to completely load. For Flash Ads, it will only take 5 seconds. And for Daily Ads, it will take 25 seconds to completely load.
Option 2 – Paid offers
Paid offers are earning opportunities you can usually find on Get-Paid-To (GPT) sites. But it is usually available on PTC sites as well. On Linxium, you will find paid offers on their offerwalls.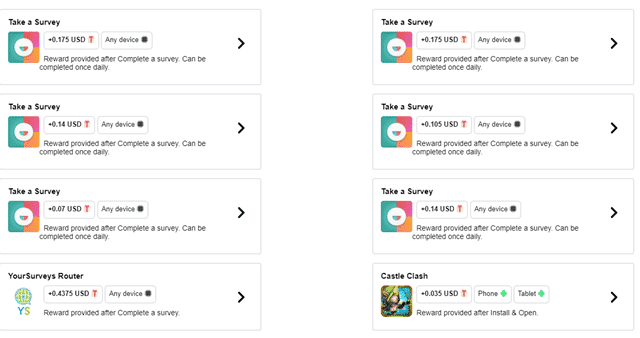 These offers will either ask you to answer surveys or play games. Some will ask you to sign up to a site, while others will ask you to answer quizzes. The type of offer you will encounter will depend on the offerwall you are viewing.
For example, if you view the Medium Path offerwall on Linxium, you will mostly see offers that will ask you to answer surveys and play games. For AdGate Media, it will mostly be quizzes and a few surveys.
But regardless of what it will ask you to do, there's one thing you need to make sure of when completing paid offers. You have to make sure you follow the instructions provided. Otherwise, you won't be able to complete it and you won't receive the reward.
The good thing about their paid offers is, it pays better than paid ads.
However, there are not a lot of available offerwalls on Linxium and the rewards you get here are quite a bit lower than if you take the exact some offers on for example ySense or another of the top-paying Get-Paid-To sites.
Option 3 – Paid surveys
There's also an exclusive section on Linxium that offers paid surveys. You can click on CPX Research and you will be taken to a list of surveys you can answer.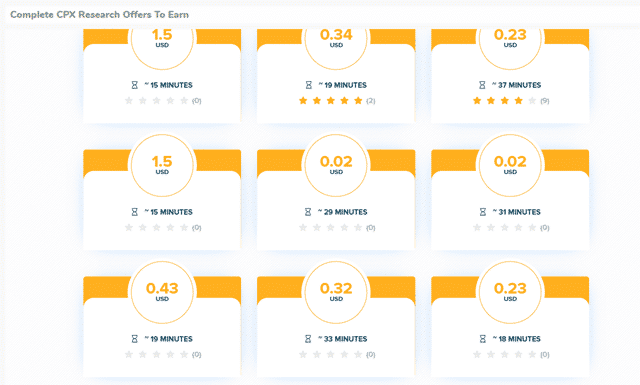 These surveys pay more than the paid offers (you can earn more than $1 for one survey – IF you are lucky and find one of these surveys).
The problem is, it can take a bit of patience to qualify for a survey. Let me explain. When you answer a survey, you will actually have to go through a qualification process first.
You will have to answer a set of qualifying questions to determine if you belong to the demographic the survey is intended for. If you qualify, you get to answer the actual survey so you can earn the reward. If you don't qualify, you simply move on the next survey.
That's how paid surveys work. In general, it pays more than the most of the earning opportunities you will find on this site. But as I've said, it takes time to qualify for one.
And most of the rewards you get for the Linxium surveys pay quite poorly compared to surveys on the top paying survey sites.
So, you need to be patient.
Option 4 – Referral program
Linxium also has a referral program you can join to earn additional rewards. However, their referral program is structured in a way where you will only receive a commission if your referral makes a deposit to the site.
Making deposits can be done in two ways. First, you can transfer your account balance to your purchase balance. That is considered a deposit.
Another is if you deposit an actual amount to your purchase balance using a payment method. In Linxium's case, they use Payeer as their payment gateway.
Their referral program has three tiers. The person you invited will be your level 1 referral. And if they invite a person, they will be your level 2 referral. If your level 2 referral will then invite a person to join the site, they will become your level 3 referral once they sign up to the site.
For level 1 referrals, you will receive a 10% commission each time they make a deposit or click and view an ad. For level 2, it will be a 2% commission. For level 3, it will be 1%.
They do hold referral contests, which, in my opinion, have good rewards, if you ever win.
As you can see in the photo above, if you are able to win their referral contest, you will win profit packs (I will explain what this is later) and rented referrals. To give you an idea of what you can win, profit packs are what you will use to withdraw your earnings.
And yes, you can also rent referrals to boost your income from their referral program. Rented referrals are rented for a period of 100 days and can be extended by 100 day increments. Their system is designed to provide only active referrals.
You just have to be careful when renting referrals because there is no guarantee you will earn from them. So, make sure you have a solid plan to earn back what you will spend if you ever decide to rent referrals.
How do you get paid?
You will earn a certain amount for every earning opportunity you complete on Linxium. When you reach their $2 threshold, you will be able to withdraw your earnings. However, withdrawing your earnings isn't as easy as you might think.
On other PTC and GPT sites, you can just withdraw your earnings using a payment gateway like Payeer or PerfectMoney (in Linxium's case, they use Payeer, PerfectMoney, CoinPayments and FaucetPay).
But with Linxium, you have to buy a profit pack for every $1 you want to withdraw.
Let me explain to you what a profit pack is. Profit packs are purchased for a period of 100 days and they have a fixed income of $0.01 per day, while their price is $0.70 per pack. They are required for making withdrawals.
So, essentially, before you can withdraw $2, you will have to buy 2 profit packs which will cost $1.4. You will then have to wait for at least 70 days before you can make any withdrawal if you want to make a profit.
That's because turning in your profit pack before 70 days has passed will result in negative returns. That's why even though the site has a low payout threshold, you will still have to wait more than two months to withdraw your earnings.
So, it feels like you are jumping through hoops just to withdraw your earnings, which isn't the case on most other PTC and GPT sites.
If you are looking for sites that will allow you to withdraw your earnings quickly, I suggest you check out the fastest paying sites instead.
How much money can you make?
While it's true that some of the paid ads you will find on Linxium pay better than other PTC sites, overall, the earning potential of the site is still pretty low.
This is not surprising since PTC sites aren't really known for their good earning potential.
Their paid offers pay better but they aren't really that high, in my opinion. You can find surveys that have higher rewards ($1 or more if you are lucky), but you have to consider that qualifying for surveys won't be that easy. It will take some time and patience to complete one.
Reaching the threshold quickly means completing several paid offers which can take hours. So, for you to earn a decent amount, you will have to invest a lot of time on this site.
But they do offer a way for you to boost your earnings.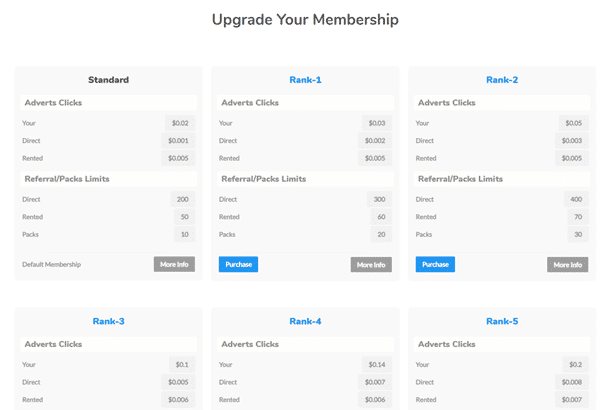 As you can see in the photo above, you can upgrade your membership to receive several perks.
I won't list down all the perks you will get but basically, the gist is, you will earn more from viewing ads and you will receive a certain number of referrals.
You can pay for this upgrade using your earnings or you can pay through any of the payment options they offer.
But, I would suggest before you upgrade your membership, you have to make sure you have a solid plan to earn back what you spent for the upgrade.
Some of the options are VERY expensive (up to $1280 for 30 days), so if you are not careful and do not have a solid plan, you can end up losing quite a lot of money.
Can you use it on mobile?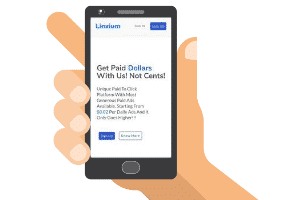 Linxium doesn't have a mobile app you can use so you can work on the activities conveniently on a mobile device.
But you will be able to access their site from a mobile device using a browser. Fortunately, their site is mobile-friendly.
So, you will be able to work on the site fairly easily. However, I don't really recommend you use a mobile device for this site due to the nature of most of the earning opportunities offered.
Since most of them will involve opening new browser tabs, it can get quite inconvenient in the long run.
I would only recommend you use a mobile device if you want to complete mobile paid offers from their offerwalls. But for other opportunities, it is best you do them on a laptop or desktop for convenience.
Who can join Linxium?
Linxium is available globally. That means you can sign up as a member regardless of where you live.
This is pretty common with PTC sites. They don't usually have a geographic restrictions, which is one of their main advantages.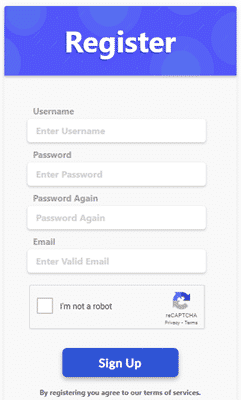 To sign up as a member, you simply fill out their sign-up form. Once you are done with that, you can log in to the site and start earning.
You don't even have to verify your registration through a confirmation link like most online rewards sites do.
Can you get support?
Linxium has a decent support system in place. They have an FAQ page that discusses a few topics. Plus, they have a contact page you can use to send in your inquiries.
But what will help you most if you experience any problems with the site is their forum. You can visit their forums and find a lot of useful conversations that will help you resolve issues you are experiencing with the site.
You can also find tips on their forum to help you maximize your earnings on the site. Overall, I would say they have decent support for their members.
Final Verdict
Linxium is a legit PTC site that will pay you for viewing ads and doing other activities. It has a couple of good features to offer but it also has certain drawbacks.
So let's end this review with a summary of its pros and cons to help you decide if you should sign up to this site or not.

Pros:
N/A – the sites seems to have closed down and a lot of members have lost money because of this

Cons:
They have suddenly just closed down and left a lot of members without access to their paid membership
Low rewards
Complicated payment method
Referral program isn't very rewarding
Has very expensive upgrades
Linxium, in my opinion, was in general a pretty bad PTC site. Yes, you supposedly earned more per click than on many other sites.
But the rewards were still low and their very expensive paid memberships were risky. And this becomes even more clear now when Linxium seems to have closed down.
This is one of the reasons I also advise against joining the sites that promise bigger earning opportunities for expensive memberships.
Most people will end up losing money instead as the earning potential is never as high as they seem. And the close-down of Linxium also shows just how risky it can be to invest in an expensive membership for a PTC site as there is nothing you can do if they just suddenly close down and take your money.
So even if Linxium should come back again at some point, I highly suggest to stay away from it.
I would suggest you instead check out the top survey and GPT sites in your country.
The sites on this list offer easy payment options, they are 100% free, and they all have good earning potential – and they are long-term sites that will not suddenly close down.
Plus, you will also find a site you can join regardless of where you live.